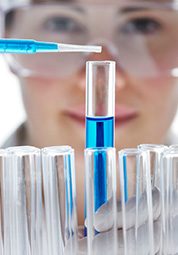 Increase R&D Investment and Enhance R&D Ability
The R&D ability of HPGC has gradually increased over the recent several years, and we have taken 36 provincial and municipal level scientific and technological projects. Two of them are National 863 Projects. In 2008, we undertook state-level research projects like the Specialized Project of Innovative Drugs and Modernization of Chinese Medicines (Siberian Ginseng for Injection) of the National "Ten Five-Year" Key Scientific and Technological Specialized Projects, Innovation Ability Construction Project (the R&D Innovation Specialized Project of Eukaryotic Recombinant Proteins) from the National Technology Center, and a specialized study (Strategic Study of Patents of Antibiotics) from the State Intellectual Property Office.
We have obtained more than 100 new drug registration approvals from 2001 to 2008, and 20% of them are new drugs of Category 3 or above. By the end of June 2006, we have more than 150 new products in the pipeline or pre-registration. Six of them are new drugs of Category 1, and three of them are in clinical trials and expected to get registered soon.
Our Chinese medicine for injection preparation is domestically pioneered, and its technology level is world-leading.
HPGC was the first to have developed antibiotic API technology in China, and the main technology indexes are critically improving thanks to continued technology improvement and new technology application.
After employing new bacteria strain, membrane filtration and "Three in One" technology, our penicillin yield has greatly increased and the technology indexes have stayed in the national leading place.
Our production technologies of cephazolin sodium and amoxicillin sodium are internal advanced level, and the technology indexes are national leading level.
Our drug dosage forms have progressed from the first generations like the traditional tablets, capsules and injections, to the second generations like the extended-release and enteric coated preparations. We have started and gained some results so far on the R&D of the third generations including the controlled-release preparations and the targeted preparations by monoclonal antibodies, liposomes, microspheres.
The new drug dosage forms we have successfully developed are the enteric coated preparations, the effervescent preparations, the extended-release preparations and the targeted preparations. We have marketed over 20 drugs in those dosage forms.